HARVEST MALIBU SUNGLASSES
The story behind the material used to make these sunglasses is truly transformational. Previously discarded WHEAT STRAW has now been reimagined and made into usable consumer products. Wheat straw is a strong and durable alternative for making paper and plastic products.
Wheat straw products are constructed from the waste left behind in agricultural processes after the grain is extracted from the crop, providing a resource that would otherwise be discarded. When wheat straw is used to make plastic, it becomes compostable and can decompose in a home or commercial site. As it decomposes at a rate similar to paper, wheat straw plastic leaves behind no toxic material, so the compost can be used for future plant growth. Products made from wheat straw plastic can be used in both the microwave and freezer, are FDA approved and are a non-allergen as well as gluten-free.
Note: We offer a variety of different products made of wheat straw.

LAVA STONE BRACELET
Lava rocks are known as stones of grounding and protection. They help in finding your focus, bringing balance to your life, and grounding scattered energy.
These Lava Stone Bracelets are made of natural stone. They are adjustable braided rope bead bracelets, (minimum size is 6.45 inch, maximum size is 9.5 inch.)
NOTE: custom branding is not available on this product, but I recommend a couple packaging options shown below - a natural cotton drawstring bag or a paper box made of plantable seeds (available in a variety of colors and seed options.)


STONE STACKING (BUILD YOUR WAY TO MINDFULNESS) - MINIATURE EDITION
Find peace and serenity through the mindful art of stone stacking. This calming kit includes: 9 hematite stones / beechwood tray / bag off sand / 32-page book on the art of stone stacking.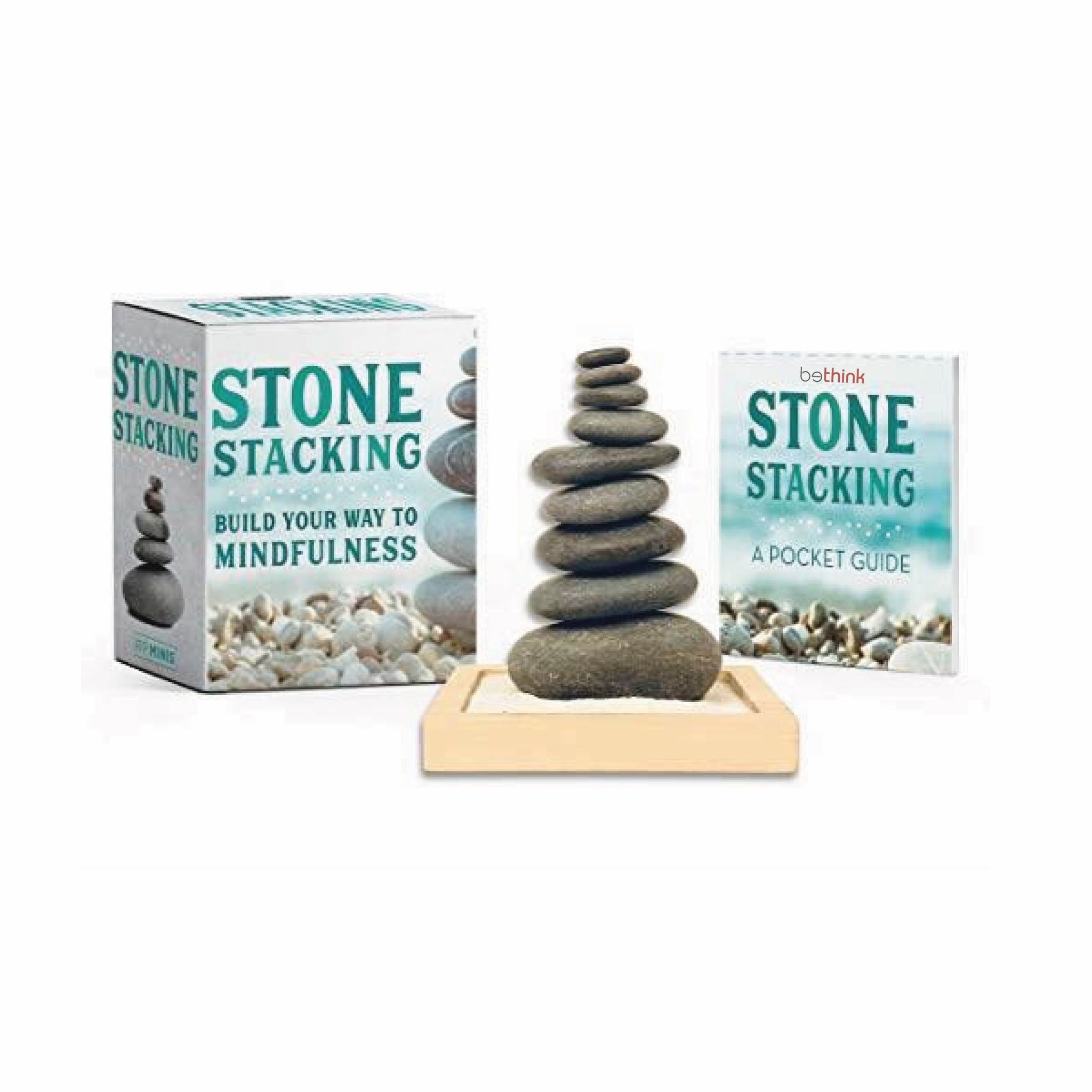 CUSTOM BRANDED BOOKS
We offer a variety of personalization options on thousands of book titles - from imprinting on covers to custom sleeves to page inserts.
CRYSTALS Jennie Harding:
A magnificent crystal identifier profiling over 100 of the earth's most fascinating and beautiful minerals displayed in a spectrum of 20 color bands. Explore the significance of each color ray, and the crystals that it encompasses, along with a factual reference describing the form, source, and rarity of the stones. Expert guidance on the placement and use of crystals means that you can use crystal healing at home. Stunning images printed on a glossy black background fully capture the innate luminescence of each crystal.'
The Complete Crystal Handbook Cassandra Eason:
Comprehensive and stunningly illustrated, this essential reference celebrates the beauty and healing potential of 500 crystals and gems. Step-by-step instructions cover divination, spiritual development, and personal empowerment-everything from headache relief to finding love and improving family relationships to warding off workplace bullying. A table on each page informs readers of essential facts on each stone, and there's advice on usage, cleaning, and care.
Practitioners of holistic medicine who prefer the benefits of a natural, noninvasive healing method will find everything they need to know in this lovely guide.
CRYSTALS The Modern Guide to Crystal Healing Yulia Van Doren:
From choosing and using to programming, charging, and cleansing, Crystals is a modern guide to enhancing your life with these enchanting stones. Often referred to as 'wisdom keepers', crystals hold millions of years of the Earth's history within them. Through emitting steady vibrations, they will help you to become more centered and balanced, creating spaces of Zen around you and your home. Featuring 51 of the most common and interesting crystals, this is a practical guide that will teach you about each stone's individual properties and how to harness their powers. Discover which crystals are right for you, where best to position them, the perfect pairings, and learn how to look after your crystals on a daily basis to deflect any negativity in your life.
Whether you use Jade to improve your health, Smoky Quartz to detoxify, or Rose Quartz to create harmony in your relationships, this practical guide will equip you with all you need to harness the power of your crystals. Disconnect with the digital world and reconnect with your spiritual self as

Crystals.
provides a fresh take on crystal healing that helps you to enhance your inner positivity.
The Beginner's Guide to Crystals Lisa Butterworth:
From amethyst to zincite, black onyx to rose quartz, The Beginner's Guide to Crystalsis a full-color, photographic guide to more than 60 stunning crystals and their emotional, spiritual, and physical healing benefits.

The beauty and allure of these ancient stones are explored in this introductory guide to understanding crystals and their many uses. Harness the healing power of these minerals by using them as a talisman for protection, to manifest intentions, to bring calmness and tranquility, and to enhance concentration and creativity. Complete with clean, modern photographs of each mineral and stone, the crystal profiles contain accessible information on color, chakra, origin, unique magical healing qualities, and uses at work, at home, and in your personal life. With tips for building and maintaining a collection as well as performing crystal rituals for metaphysical healing, The Beginner's Guide to Crystals provides everything you need to experience the wide range of benefits these stones offer. Whether used to treat physical ailments like hypertension, high blood pressure, and circulatory issues, or to soothe emotional issues such as anxiety, fear, and stress, this guide will introduce you to the perfect crystal for bringing wellness and balance to your life.


WOODEN STACKING ZEN STONES
Stacking stones is known around the world as a creative, focus-building, meditative and stress-relieving activity. Imprints on both the tube and one stone are offered.

Five wooden pieces of varying sizes and shapes come in this 3" x 8.75" gift tube.

3 OZ. SCENTED VOTIVE CANDLE IN A CARDBOARD GIFT BOX WITH 3" SPECIALTY WODDEN MATCHES
CANDLE: Enjoy the delicious fragrance of berry spice or sugar cookie with our 3 oz. white wax, scented votive candles. With a burn time of up to 14-15 hours, these classy candles will bring your brand's logo front and center for the long haul, whether they're relaxing in the tub or throwing a dinner party. Customize the cardboard gift box and candle with a full-color label and the floral, spicy, or scrumptious aroma that best evokes your company's brand.
MATCHES: The famous "lipstick" box stretched in length with 15 sturdy 3-inch sticks and a choice of 16 standard match tip colors. This elongated "lipstick" size is for those who enjoy cooking and candles, or cigars and pipes, or lighting firesides and performing other home tasks requiring a longer-lasting light. Branding includes three sides of custom printing.
HARVEST LIP MOISTURIZER BALL
Also made of wheat straw, our Harvest Lip Balm Balls are vanilla flavored. The container includes small Amounts of plant-based material are used to create a flecked finish. Each ball is safety sealed and meet FDA requirements. Size: 1 1/2" diameter.
Note: We offer a variety of different products made of wheat straw.
80-PAGE WOODGRAIN JOURNAL & BAMBOO HARVEST PEN
JOURNAL: Hard-bound cover, made of paper & cardboard with wood-grain finisH, 70GSM Ivory ruled paper, elastic ribbon closur, 80 sheets (160 pages) with ribbon bookmark. Size: 5-1/8" x 7" x 1/2"
PEN: Also made of wheat straw, our Bamboo Harvest Pens are available in 5 color combinations.